Queen Rania Appears in Yellow Blouse
Back to Sporty Looks
Alexandra Marchand - Madame Figaro
23-August-2022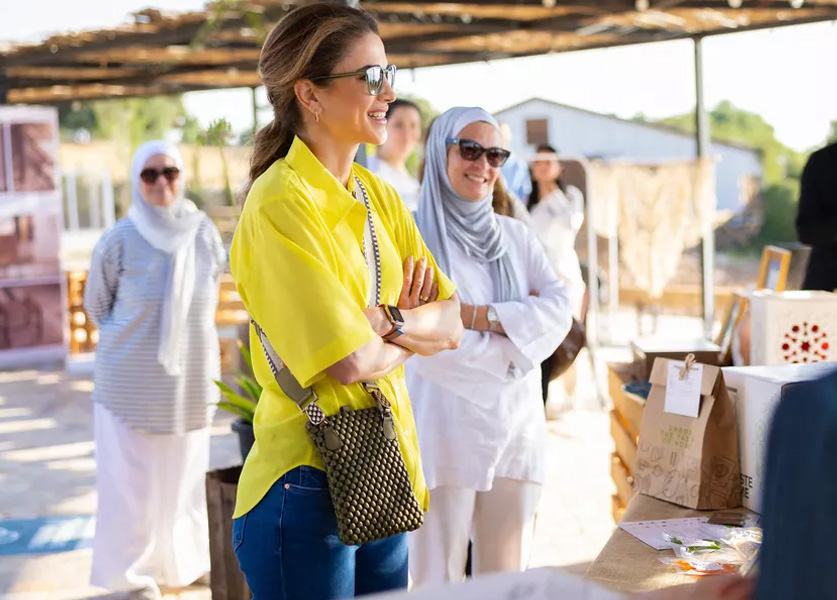 Following her summer break, wife of Abdullah II of Jordan, Queen Rania, resumed her royal duties on Sunday, August 14, in the forests of Zai, in the governorate of Balqa.
Throughout her visit to the LIVINC incubator for creative minds, which supports innovation in arts and crafts, the wife of King Abdullah II appeared dressed in jeans with a flaming yellow short-sleeved shirt. She styled her look with a shoulder bag, along with a pair of khaki boots. Queen Rania dared wearing a color that other royal women would not choose wearing; however, she knew how to create a modern yet elegant look.
"I am proud of the ambitions of this initiative and its commitment to nurturing Jordan's young talent," commented the queen on her Instagram account.
Just Like Kate Middleton
This rather unusual appearance of the sovereign of the Hashemite kingdom in a casual outfit is not without reminding those that Kate Middleton can dare during sports outings. Seen in khaki shorts during a visit to Nassau in the Bahamas in March, five months later, the Duchess of Cambridge adopted once again this piece during the "Commonwealth Race". For the occasion, she wore a chic and casual outfit, composed of a sailor suit and white high-waisted shorts, signed Holland Cooper.