Queen Elizabeth Shares a Cup of Tea with Paddington Bear
Léa Mabilon - Madame Figaro
6-June-2022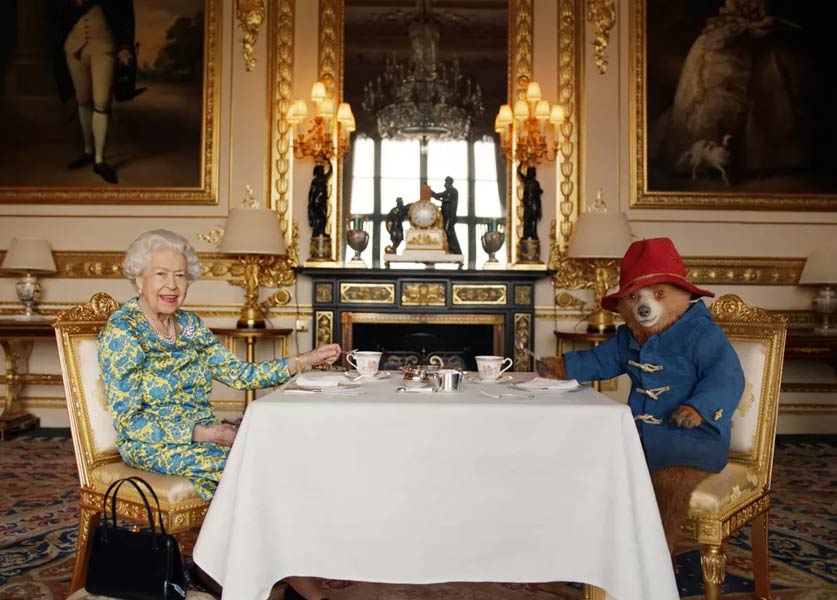 While the British enjoyed the giant music concert organized on the square of Buckingham Palace, the 96-year-old Queen shared a cup of tea with a special friend.
Kicking off a concert celebrating her 70 years on the throne, Queen Elizabeth II enjoyed a tea time with hero of British children's literature Paddington Bear. The latter took out of his red hat a marmalade
sandwich
and offered it to the Queen; a secret hiding place for urgent cases. "I keep mine here for later," the queen replied, pulling a ready-made sandwich out of her famous Launer
handbag
.
A butler appeared in the mini-
movie
looking out the window at the thousands of English people who have come to pay tribute to the sovereign on the square of Buckingham Palace. "It's about to start, your Majesty," the man of the house mentioned, referring to the giant concert that is about to be celebrated. The short movie showed Paddington tipping his hat saying "Happy Platinum Jubilee, and thank you for everything." "That's very kind," the Queen replied.
It is with this offbeat sketch that Elizabeth II chose to open the concert of her
Platinum Jubilee
, which took place on June 4. A funny video that caused hilarity of the whole crowd that came to cheer her, proving that the 96-year-old Queen of England has lost nothing to her humor. "Although she didn't attend the concert in person, she was keen for people to understand what it means to her and for everyone in the audience to have a good time," a royal spokesperson reported to the British press.