Gucci Cruise Leaves its Charm in Castel del Monte
Stars Aligned in Italy
Marion Dupuis - Madame Figaro
19-May-2022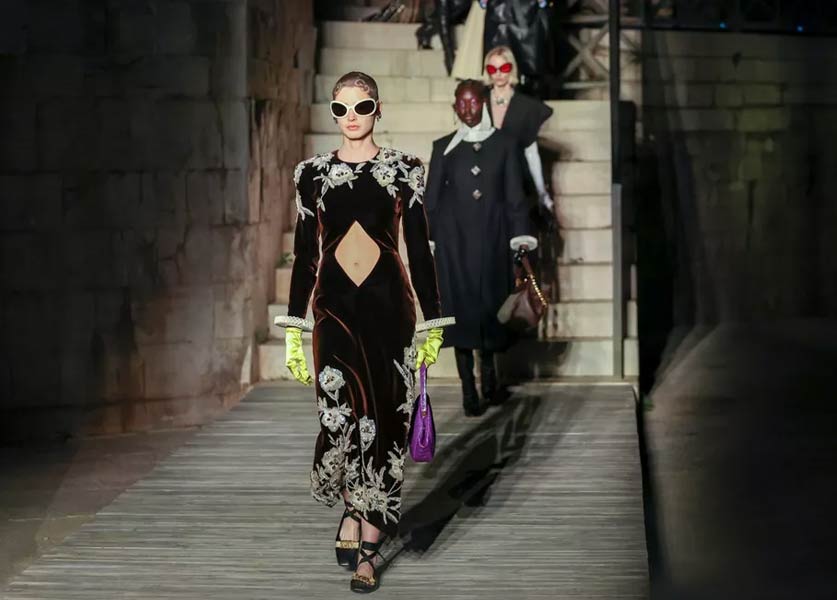 To showcase the cruise collection of Italian high-end luxury fashion house Gucci in front of Castel del Monte, Creative Director Alessandro Michele decided to transform Puglia into a magical fashion runway. The creativity of the house imposed a spectacular ambiance.
We can confirm that cruises collections are made to parade after sunsets. Like Louis Vuitton's show in San Diego, the Italian house waited for nightfall to present its Cosmogony collection. To stage his fashion stories mixing history, archaeology, philosophy, and cinema, Creative Director Michele Alessandro went for a decor worthy of a fairy tale. This show confirms that the Italian loves nothing than to exhume the cultural treasures of his country.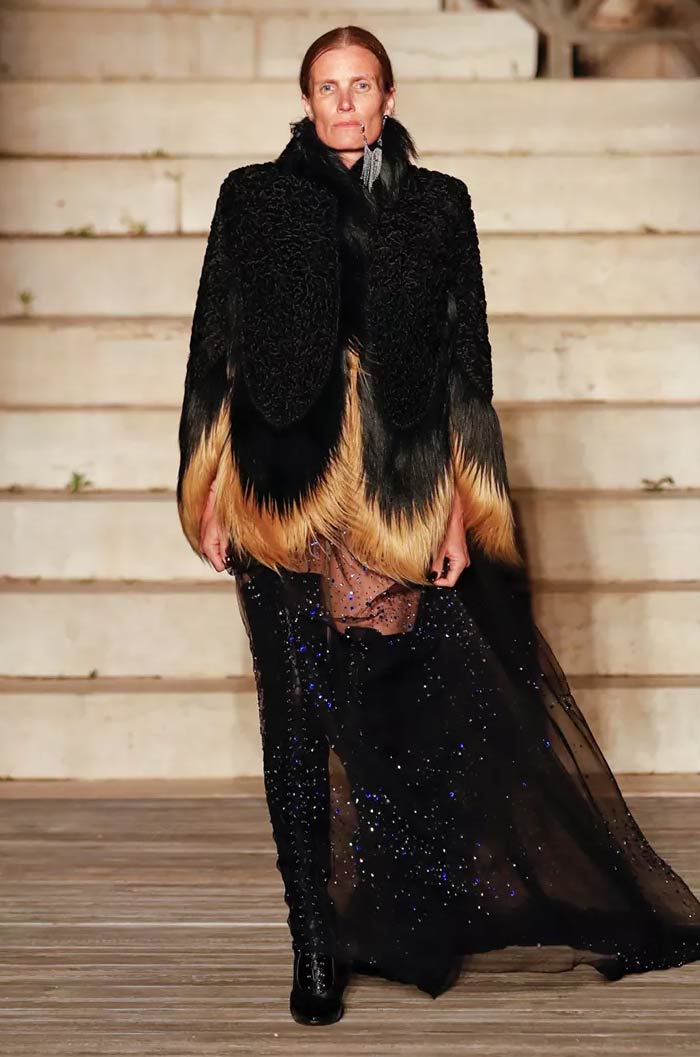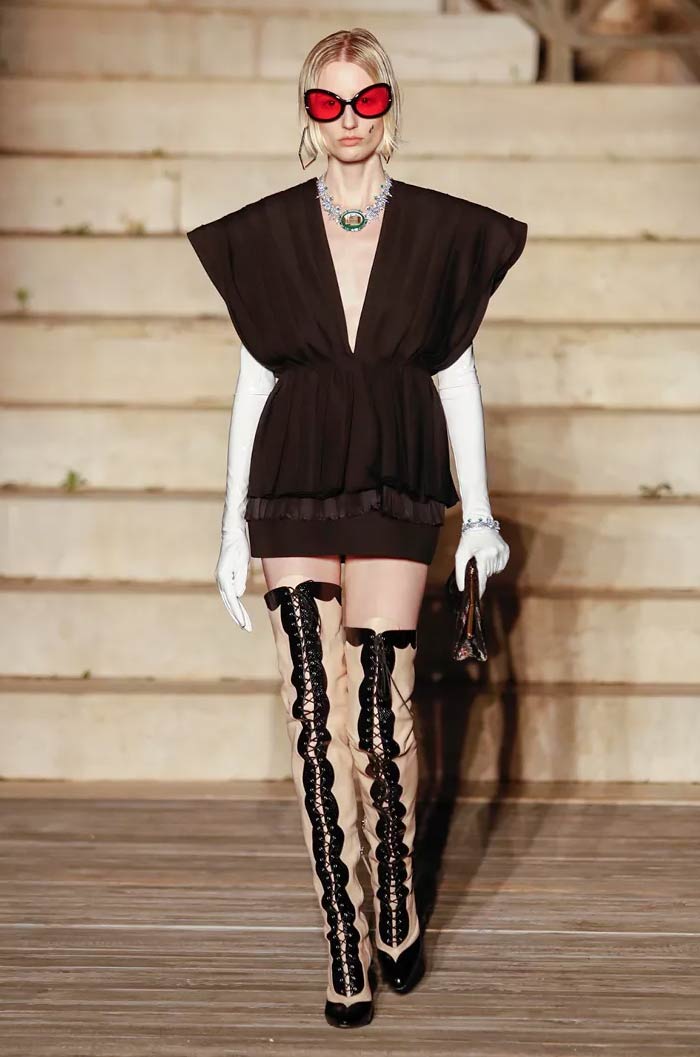 A castle in Italy
Known for his special location decisions, this year, Michele Alessandro invited his guests to the majestic setting of the medieval castle of Castel del Monte, in the heart of Puglia, in southern Italy. A unique octagon-shaped fortress with eight geometric towers overlooking the town of Andria. During its construction, legend has it that the number eight was obsessively repeated. Passionate about symbolic places full of mythical stories, the Italian designer could not have asked for anything less. In his note of intent, he also invited the philosophers Hannah Arendt and Walter Benjamin as a source of inspiration that gave rise to this outpouring of constellations.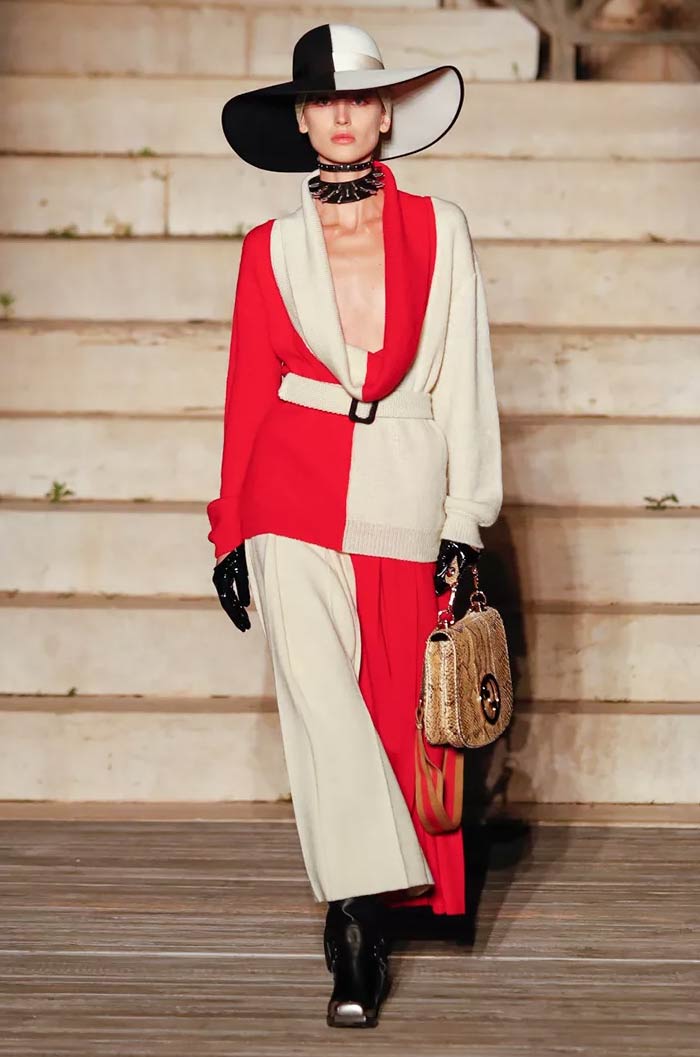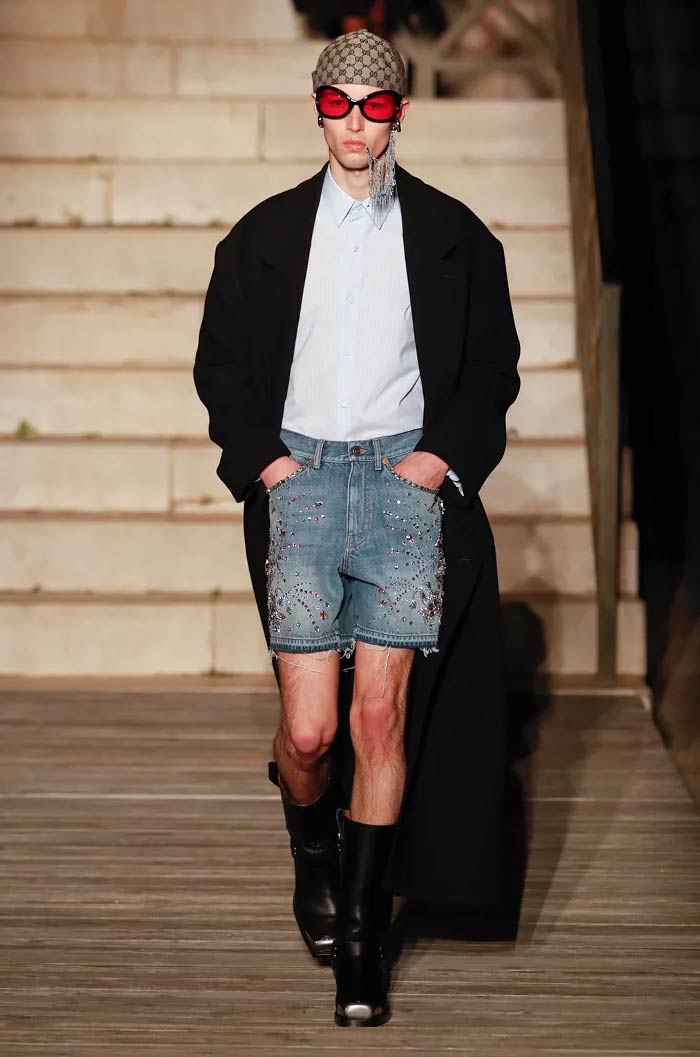 A Myriad of stars
The circular podium set up around the castle was illuminated with stars when the guests arrived for the fashion show; the sky was ablaze with the colors of the night. Famous faces like Elle Fanning, Lana Del Rey, Dakota Johnson, Paul Mescal, and the Italian actor Alessandro Borghi were present at the starry frame. Lou Doillon, faithful of the house, very pregnant with her second child, also posed in front of the photographers, in suit and black felt, proudly revealing her baby bump under her open jacket.
In the dark night, the show started with flames coming out of the castle' main door, accompanied by sublime classical music.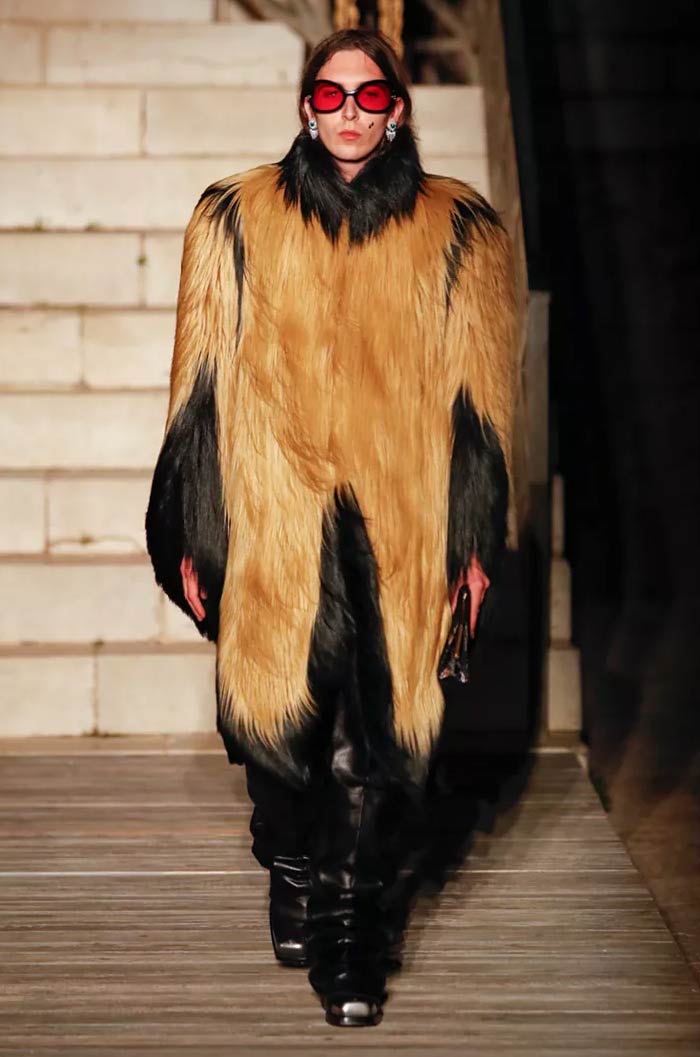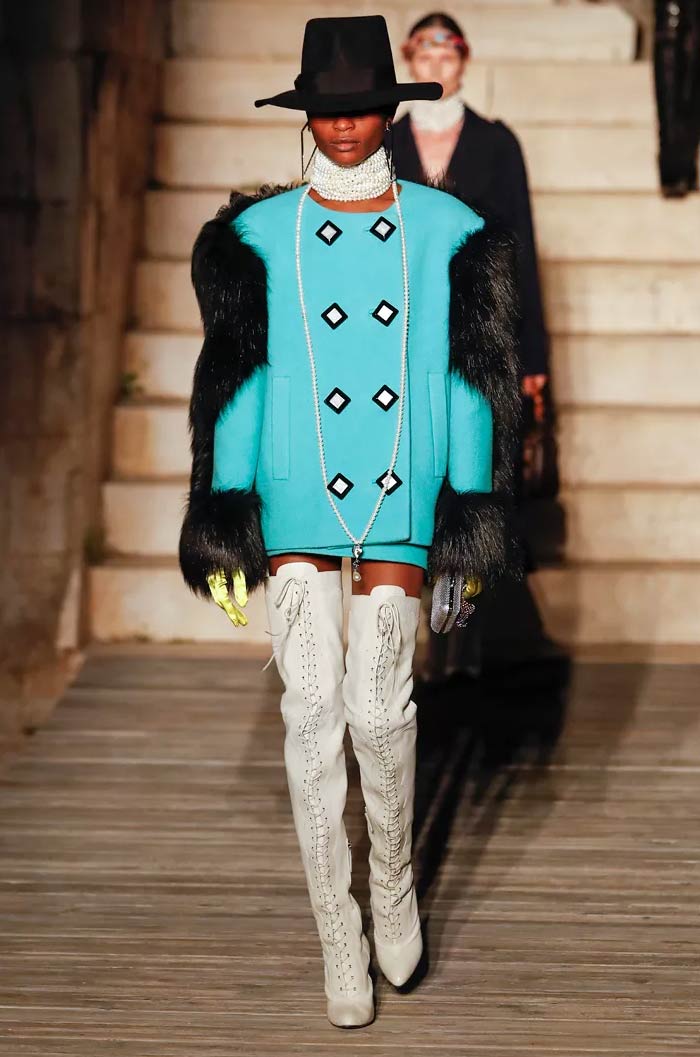 Between cinema and rave party
The models come out ready to play all the roles in this starry super production. Chatelaines in long dresses richly embroidered with sequins or constellations, Roman bourgeois as cinematic as the most beautiful actresses - Monica Vitti, Sophia Loren and co. - from the golden age of Italian cinema, and sexy creatures straight out of a rave party parade in wisps of smoke, perfectly echoing the theatricality of the castle. Shimmer of luminous textures mixing flamboyance and decadence, great elegance and irreverence.
Gucci girls wore everything from laced-up, stiletto heeled thigh-high boots to precious ballerinas, from sequined capes revealing their entire bodies to long, austere black dresses adorned with choker necklaces with multiple strings of white pearls.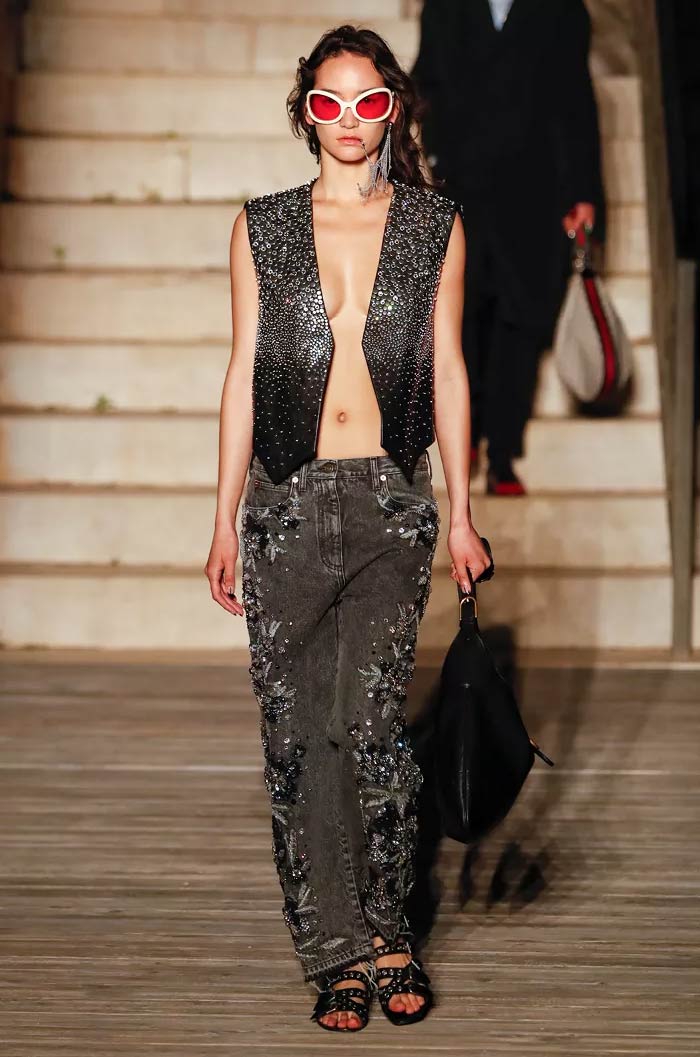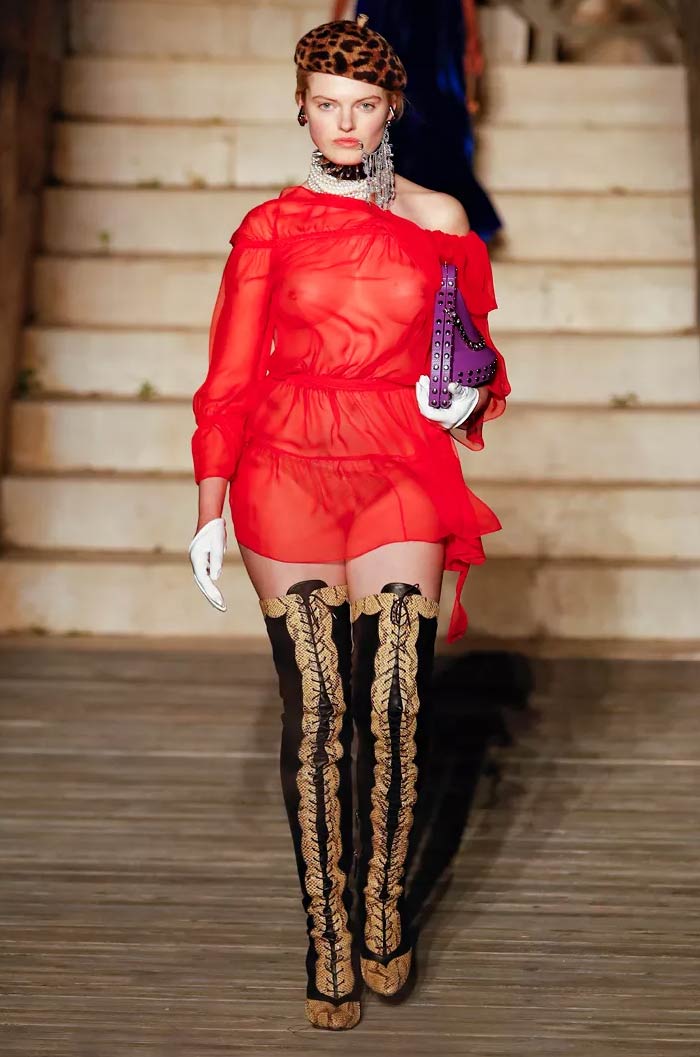 From Renaissance to today
A bit crazy behind their great sophistication, they multiply the references, link drags and crinolines, turquoise blue opera gloves, white collars in Renaissance spirit, apple green suit with pie shell collars, tiaras of great queens, transparent pink nighties, opulent fake fur or long draped dresses with black and white stripes. Heroines in turn romantic, cinematic, daring, dominating who go out at night with their big colored glasses because fashion is also made to have fun. "I always make the clothes shine if I can," explained Alessandro Michele, who can congratulate himself today for having been highly successful with his sublime cruise party in Italy.