Chanel Showcases Replica of its Métiers d'Art Show in Florence
Sabrina Pons - Madame Figaro
9-June-2022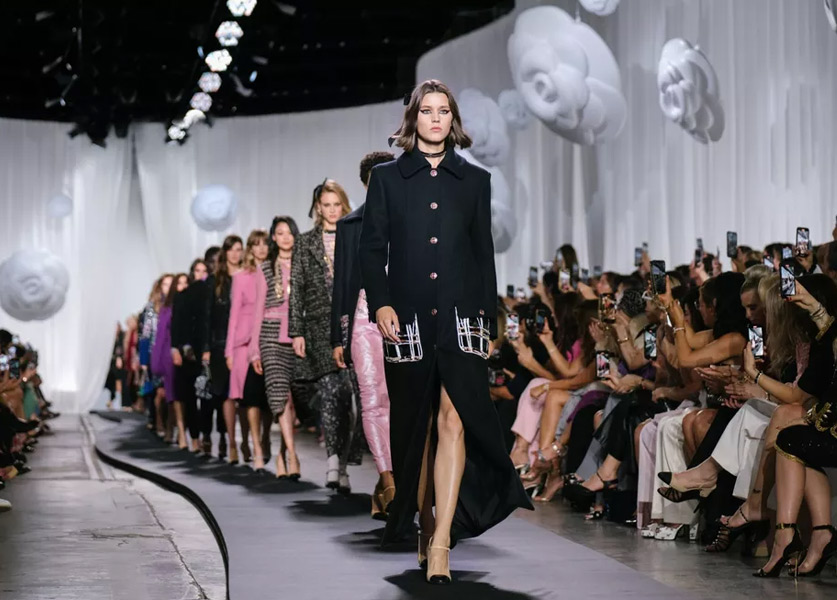 Chanel presented the replica of its Métiers d'art fashion show in the city of Lys. A collection that combines know-how, refinement and comfort.
During a master class given to students at the Florence Chamber of Commerce, Fashion President of Chanel Pavlovsky declared that "not everyone knows it, but half of Chanel's life is in Italy." The president of Chanel's fashion activities answered a question about the relationship between the luxury brand, a reference in French fashion, and Italy. The Florentines were able to guess the content of these rich and close ties thanks to a large-scale poster campaign that has been running for a few days in the city.

The label is fully the event; it presents the replica of its Métiers d'art show in an old disused train station in the city. The first session took place in Paris, last December. But a repeat performance in Italy is welcomed on the eve of the arrival of the collection in stores.
Imagined by Karl Lagerfeld in 2022, this unique fashion show pays tribute to the artisans and collaborators of the brand. However, it is known that there is no shortage of dream factories in Italy. In recent years, Chanel has acquired several: tannery, hosiery, shoemaker ... the excellence of craftsmanship of the Peninsula is at the heart of the creative process of the brand.
During the master class, Fashion Presient of the French house Pavlovsky explained that "this relationship with Italy is not new. With this country, we can develop a product, but also produce it. And that's quite unique. Fashion depends on this ability to develop and deliver, because everything becomes possible in the boutiques when the collections arrive on time."


Rendezvous at the Stazione Leopolda
Guests, journalists, Italian clients in two-tone pumps and house ambassadors, including Penélope Cruz, Caroline de Maigret and Angèle, gathered at the Stazione Leopolda. The space was covered with white curtains and giant camellias, a nod to the brand's iconic flower, traditionally made by Lemarié, a French feather maker and florist also owned by the Chanel group. The space characterized the Métiers d'art collection with its artisanal echoes yet very urban.
This sophisticated wardrobe invites movement, starting with tweed jackets with sweatshirt sleeves and casual coats worn open. The craftsmanship is revealed in graffiti-style embroidery in colored beads by Lesage, or on voluminous purple or hard blue knit Bermuda sets. Even the accessories don't suggest taking your foot off the gas on refinement: two-tone beige and black babies see the top of the heel adorned with chunky beads, and long leather gloves are worn with a mix of jewelry.
The fashion show ends with a musical performance orchestrated by an Italian band, followed by the singer Angèle.