Met Gala 2022 Gilded Looks You Don't Want to Miss
Rita Khoueiry
5-May-2022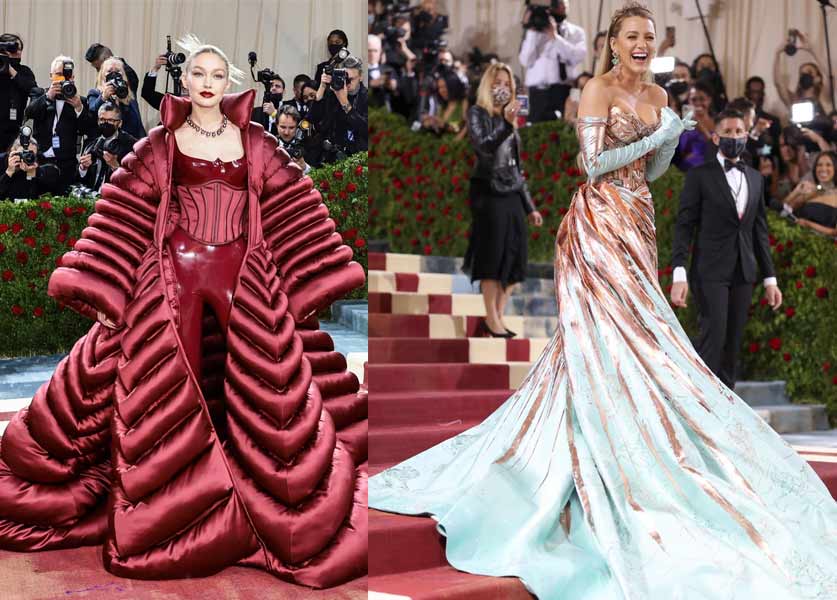 Under the gilded glamor theme at the Metropolitan Museum of Art, our favorite celebrities climbed the Met steps in their exceptional and intricate outfits, offering us a variety of interpretations of their looks. Year after year, the annual celebration of fashion serves us memorable looks, even though what happens at the Met Gala is kept secret. The first Monday in May this year, we saw gold layered on gold, special fabrics, exquisite garments and various hairstyles. Guests walked on the NYC Red Carpet showing their interpretations of the dress code, while waving and smiling to the cameras and the flashlights.
Here are some of the mesmerizing Met 2022 looks you don't want to miss.

Kim Kardashian as Marilyn Monroe
One of the amazing Red Carpet looks that left us speechless was Kim Kardashian's shimmering sheer gown. Nailing the gilded age theme, the star revealed that she had chosen to wear the multimillion dress that Marilyn Monroe wore when she sang "Happy Birthday, Mr. President" for John F Kennedy. Her dress choice, which surprised everyone, was coordinated with platinum hair that was perfectly pulled into a bun. She also wore shiny diamond earrings.
Blake Lively in a breathtaking Versace gown
Another bedazzled look this year was the one of the American actress Blake Lively. The star arrived to the event, with her husband Ryan Reynolds, wearing an Atelier Versace gown designed with the finest detail. Known as the best dressed woman in Hollywood, Blake did not fail to meet our expectations; unwrapping the oversized bow, the princess dress was transformed from rose gold to aqua blue. The beautifully embellished dress made her stand out among all guests. The actress complemented her look with opera gloves and unique accessories.
Gigi Hadid in a humongous puffer jacket
jackejacke

The outfit choice of the model Gigi Hadid for the Met this year was exceptional: a red corseted bustier paired with latex pants and high boots of the same color. The supermodel matched her whole look with a giant matching puffer jacket for a modern twist, and went for a spiky up-do as a hairstyle. For the accessories, she chose a statement necklace with encrusted red stones. We can say that her look was really outstanding.
Hailey Bieber standing out in white
The 25-year-old model Hailey Bieber took fashion's biggest night to another level with her chic look. She was wearing a white Yves Saint Laurent dress designed from soft silk with a halter neck and a high slit. Her amazing and unique look was paired with a feather-trimmed cape, and her hair was up in a sleek bun. With this glamorous gown, Hailey marked another memorable red-carpet moment.
Léna Mahfouf in a majestic Markarian dress
Crossing the Met Gala red carpet for the first time, 24-year-old French influencer Léna Mahfouf appeared in an exceptional flower ball gown signed by Markarian. Better known as Léna Situations, the Parisian vlogger marked her Met Gala debut this year with a majestic look, respecting the gilded age theme of the event. She completed her Flawless look with a BVLGARI crown and unique Jimmy Choo pumps. The French YouTuber has now realized one of her dreams in NYC wearing an elevated Bridgerton look.