Daniel Roseberry Dresses his Sister in a Magical Wedding Gown
Mitia Bernetel - Madame Figaro
14-June-2022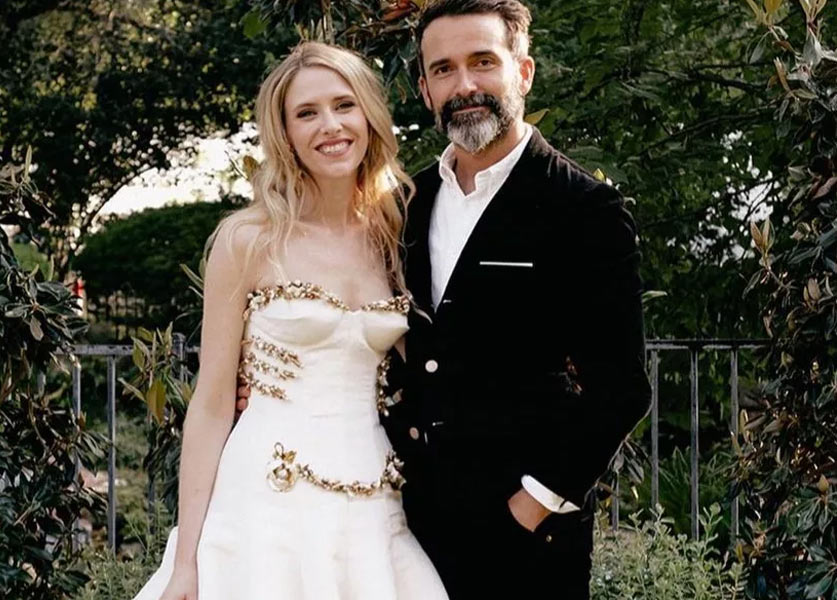 Creative director of the French haute couture house Schiaparelli Daniel Roseberry designed a princess wedding gown for his sister Elizabeth. A piece created with a surreal touch dear to the label.
In a video posted on her TikTok account, Elizabeth Fox Roseberry mentioned the following: "I'm getting married this weekend, I'm not rich, I'm not famous, and I'm going to wear a Schiaparelli made-to-measure couture dress." 30-year-old Elizabeth is not just a "simple girl from Austin, Texas." She is none other than the younger sister of the artistic director of the Parisian fashion house Schiaparelli, Daniel Roseberry. Known for his spectacular fashion, the American fashion designer, who created the astonishing dress of Bella Hadid at the Cannes Film Festival 2021, has spoiled the bride with a one-of-a-kind dress.
On the TikTok account of the young graphic designer, videos of her creations and other artistic achievements gave way to a real report dedicated to the pieces signed Schiaparelli. The centerpiece, the strapless wedding dress was embroidered with gold on the sides, and laced in the back with two layers of ruffles, including a low part that stood out. The bride ended the evening in a short dress, with a pair of Doc Martens.
Nonetheless, the dream of the one who loves "creating things" does not end there. Her sculptural wedding dress was styled with different surreal accessories; creative signature of the artistic director of Schiaparelli. Artistic eyeglasses with pearl tears, pumps shaped like feet, brooches and earrings made of golden flowers... Each of these exceptional objects was the subject of an emotional video from the designer's sister. It must be said that Daniel Roseberry had taken care of all the details, even revisiting the Texas tie of his brother-in-law, the "bolo", in a jewel version.