Lebanese Designers Steal the Show at Cannes Film Festival
Rita Khoueiry
23-May-2022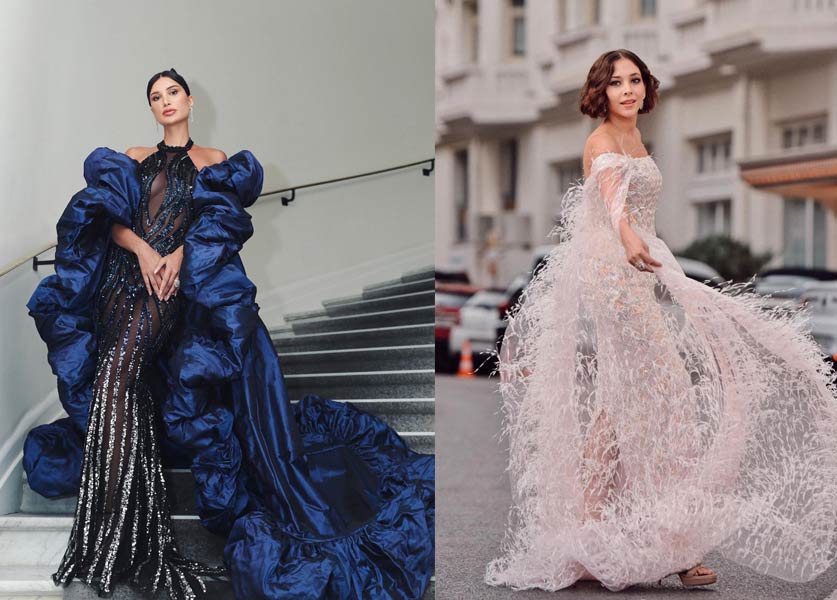 Every year, we all wait impatiently for the International Festival of Creativity that gathers famous faces and Hollywood stars. Actually, what we wait for are the outfits of the celebrities on the red carpet.
Taking over the French Riviera, the 75th edition of Cannes Film Festival welcomed a host of A-listers who stood out with their exceptional looks in front of camera lenses and flashes. Everybody dreams to make it to Cannes red carpet, but only lucky ones can hit it wearing designer brands.
This year, Arab designers, especially Lebanese ones, took over the Cannes Film Festival red carpet. Leaving a stunning impression, as usual, in the French Riviera, Lebanese designers turned heads with their outstanding gowns. Alice Abdelaziz, Fatima Albanawi, and many others made the right choice: their breathtaking appearances caught everyone's eye.
Here are some of the amazing looks designed by regional fashion creators that left us out of words.
Alessandra Ambrosio in a pink floral dress
Brazilian model Alessandra Ambrosio appeared in the Celebration of Women in Cinema Gala hosted by Red Sea International Film Festival, wearing a wonderful ball gown signed by Lebanese couturier Elie Saab. The eye-catching floral dress was detailed with feathered petals embroidery, along with silver crystals. Beautiful Alessandra looked splendid with this fairytale ball gown; the dark pink petals transformed the look into a real piece of art. Her simple makeup was done by the makeup artist Georgi Sandev.
Gala Gonzalez in an impressive black dress
This year, Founder and Creative Director of Amlul appeared for the first time on the Cannes red carpet to attend the screening of "Armageddon Time". She was wearing a flattering black gown signed by Lebanese designer Elie Saab. Simple yet masterful, Gala Gonzalez's dress has been designed with perfect cutouts on waist and breast levels, making her look attractive. Moreover, dazzling silver detailing decorated the upper part of the gown, what made the Spanish model have a star moment. Her natural makeup was done by Dior Beauty makeup artists.



Fatima Albanawi in a dreamy white gown
The Saudi Arabian actress and filmmaker made all camera lenses turn to her on the red carpet: Lebanese couturier Rami Kadi knew how to let her stand out in a magical custom hand-made piece. A white silk chiffon gown with a long-sheer cape designed with feathers, a look that can't be described enough. To provide the famous storyteller a remarkable red carpet moment, designer Rami Kadi created an off-shoulder piece with holographic threads. Charlotte Tilbury makeup products were behind Fatima's glowing face.



Alice Abdelaziz in a daring look
Reality Star Alice Abdelaziz was seen on the red carpet wearing a see-through halter gown signed by Lebanese Zuhair Murad. Designed from black mesh, the grandiose ball gown was adorned with dazzling blue and silver sequins, taking the look to another level. The daring piece was complemented with a voluminous taffeta cape, leaving us mesmerized with the complete wonderful appearance. Alice's makeup was done by Charlotte Tilbury team.



Josephine Skriver in a breathtaking black & white dress
Danish model Josephine Skriver stole the show at the premiere of "Top Gun: Maverick", wearing a gorgeous gown signed by Lebanese Tony Ward. Designed with an elegant long train, the black and white strapless dress chosen by Josephine was detailed with side ruffles. The model was looking very attractive in this monochrome dress; the exaggerated black train made her appearance majestic. Her stunning makeup was done by the makeup artist Naima Bremer.



Raya Abirached in a radiant blue
Celebrity Journalist Raya Abirached made it to the red carpet in a princess dress. For the opening of the Cannes Film Festival, the Lebanese TV presenter was wearing a sunning blue gown signed by the Lebanese designer Georges Hobeika. The marvelous strapless piece was studded with silver detailing, making the celebrity look like a Disney princess. Her beautiful makeup was done by Charlotte Tilbury team.
Frida Aasen in an elegant red

Norwegian fashion Frida Aasen model opted for a beautiful red dress signed by Lebanese Elie Saab to attend the screening of "Forever Young". The long dress had been designed with cutouts at the waist level, and with a plunging neckline. Simple yet attractive, the gown looked amazing on the supermodel.
Tamara Kalinic in a radiant light green gown
Social media influencer Tamara Kalinic was seen in a dazzling light green dressed designed by Lebanese Elie Saab. The gown had been designed with silver and black sequins, making the dress shine with every movement. The appearance of the famous YouTuber during the screening of "Triangle of Sadness" left a splash of sparkling color on the red carpet.
Vicky Rader in a gold beaded gown


To walk on the red carpet, stylist and creative director Vicky Rader wore an incredible gold beaded gown signed by Lebanese couturier Georges Chakra. The fantastic dress was designed with a draped cowl neck and dramatic chiffon shoulder trains. Vicky looked wonderful in her outfit; under her look posted on Instagram, she mentioned that the "golden glam felt like a dream." Her beautiful makeup was done by Charlotte Tilbury team.
Enjy Kiwan dazzling in hot pink
Egyptian actress Enjy Kiwan was invited to attend the screening of "Triangle of Sadness". For her red carpet moment, she opted for a hot pink strapless
gown
designed by Lebanese designer
Georges Hobeika
. The dress is a strapless piece and is distinguished with a front slit, along with a train. The impressive gown was also designed with a cutout on the wait level, which made the famous
actress
look incredibly beautiful. Enjy styled her look with
jewelry
from Messika.